Having trouble with reading DVDs/CDs? you are in the right place. Optical disks (DVDs/CDs) are still used widely in nowadays. But when you use DVD recorder/drive for long time, it's going to have reading errors. So I'm gonna explain how to repair reading error.
If your DVD drive/recorder can't read DVDs, that's mostly because of disk errors. Just clean it up before you do repairing drives.
Here in my article, I'll explain how to repair DVD/CD drives by adjusting pick up lens. If you ask repair for repair shops, it'll cost about USD 100 or more. So it's better you do repairing by yourself.
What to prepare ?
I'm going to repair my lap top VAIO SE. Optical drive of it is slim type and it's gonna be little difficult. I'm gonna put photos of VAIO SE, but you can refer it for your own DVD driver/recorder. I referred  ソニーなVAIO好きのブログ(japanese) for disassemble my laptop.
Before you do reparing, you need a tool; Screw drivers. You can buy it online or at the hardware shops.
Disassembling
the first step is that you need to take out optical drive from the computer. For VAIO SE, you gonna need to take out two screws on the back side.
After you take out the DVD drive, you need to take out cover on the back of the drive (refer below photo).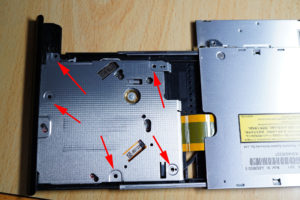 When you take out the cover on the back, you can see the tab that is covering laser lens.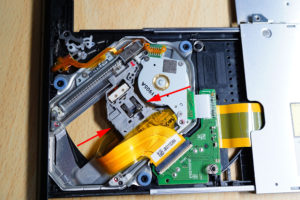 By using screw driver, you can take out the cover.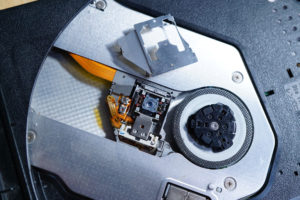 When you take out the lens cover, you will find screws for adjusting pick up lens. If you drive is DVD recorder, you can find two screws for adjustment; one for CD and the other for DVD. If you have BD, screws could be three.
You can find the screws close to the reading lens. Locations varies by driver makers, but mostly they are on the next to pick up laser.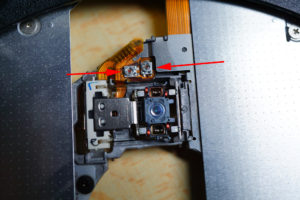 By turning these screws, you can adjust pick up lens.
Adjusting pick up lens (laser)
*Before you begin turning the screws, I recommend you to mark the place with magic pens. Otherwise, you gonna lose the default position.
If you failed to adjust laser power, it is possible to break the DVD disks or even DVD drive. So please repair with your own risk.
In most cases, you don't need a big adjustment. You only need little adjustment. So when you turn screws for adjustment, turn it with 10 degrees or less for the first. After you do fine adjustment, check the reading and repeat the same.
For my case, both DVDs and CDs couldn't be read, so I turned 15 degrees in clock ways. Yet still disks weren't be read, I turned 45 degrees in counter clock ways. After turning 45 degrees in counter clock ways, the drive read CDs.
So I did fine adjustment for CD and DVD, and finally, the drive can read both DVDs and CDs ! of course writing too !
I kind of gave up when I first face reading error problem. But the rearing was way easier than I have thought. If you have good skill of rearing, it's worth trying !